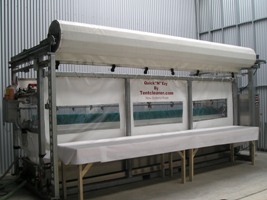 NO HANGING                NO SOAKING           

NO WORRY'S
 NZ brings you the QUICK N EZY Alpha tent / marquee washing and drying machine all in one is designed by Tent Cleaner NZ Ltd and now  built in Auckland New Zealand by Effective Engineering Ltd. After looking around the world for a marquee / tent washing machine, I found there was nothing that was affordable or able to be transported from job to job.So after a lot of research I have designed and built the Quick N Ezy tent / marquee washing machine. It is very user-friendly and can be operated by one person.
We will build to your requirements from 6 ,12 and 18 metres wide brushes and ship world wide.
We have tthree models the Alpha,Gemini and Leo.
Also able to wash yacht sails, tarps, event carpet walk ways,grass matting  and shade sails up to 5 metres wide 40 metres long..
 It only stands 2.9 metres high with a working height of 3.2metres that fits into a low profile goose neck trailer and giving a good working height by using the trailer as the table.
Quick N Ezy only takes 30 square metres of floor space.
One man operation.
When washing by hand the product is laid out on the ground and cleaned with a broom and hose while being walked on and the dirty water can get into our water ways.The Quick N Ezy recycles 100% of the water, not letting any dirty water into your water ways. See video.            
 You can soon buy the drawings for the 6m Alpha in PDF & DXF to build yourself, includes the air knives, I will supply the burshes at a low cost.
                                 We have a Refurbished Alpha 5m machine for sale.SOLD

                                This machine is sold and on the way to South Afirca.
We ship world wide and have three models.
See links page for a bright clean marquee for your next event.